Course Description
Learn how to create a high impact strategic planning process for nonprofit organizations. This seven-week course meets online via Zoom for one hour each week and covers all aspects of strategic planning, including stakeholder involvement, mission clarification, mission metrics, vision, strategic goals, SWOT analysis, creating a strategy narrative, and implementing the strategy.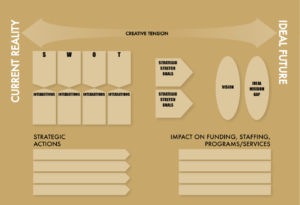 This course is designed for nonprofit executives who want to lead their organizations to higher levels of Mission Impact by implementing breakthrough strategies. Consultants are also welcome.
The course leader is Rob Sheehan, Ph.D., a nonprofit thought leader and experienced nonprofit executive.  Rob has eighteen years of experience as a CEO of two different nonprofits.  He has more than twenty years of experience as a strategic planning consultant for nonprofits. He teaches a nonprofit strategy course for graduate students at the University of Maryland and is author of the book Mission Impact: Breakthrough Strategies for Nonprofits.  Learn more about Rob here.
The fee for the course is $149.00 per person.  The course is limited to the first forty people who register.  Class size is limited to facilitate group interaction.  This is not a series of webinars where you will be talked at.  We will have as much group dialogue as possible.
Check out this video for a taste of what you will learn in the Mission Impact Strategy course.
All participants will receive a copy of Rob's Breakthrough Strategy Workbook as part of the course.  You are encouraged, but not required to purchase the Mission Impact book as you participate in the course.  FYI – there will be no graded exams as part of the course (lucky you).
Course Schedule & Topics
**Now enrolling for Fall 2021. Class dates are as follows:
Session 1: Course Overview, The Mission Impact Approach, What is Nonprofit Strategy?
Thursday, October 7, 2021
5:00 – 6:00 p.m. (EST)
Session 2: Designing the Strategy Process, Your Strategy Committee, Stakeholder Involvement, Landscape Analysis
Thursday, October 14, 2021
5:00 – 6:00 p.m. (EST)
Session 3: Mission Clarification, Mission Chat, Mission Accomplishment Measures, Mission Gap
Thursday, October 21, 2021
5:00 – 6:00 p.m. (EST)
Session 4: Creating an Aspirational Vision
Thursday, October 28, 2021
5:00 – 6:00 p.m. (EST)
Session 5: Strategic Stretch Goals
Thursday, November 4, 2021
5:00 – 6:00 p.m. (EST)
Bonus Q&A Session: 6:00 – 6:30 p.m. EST
Session 6:  SWOT (Strengths, Weaknesses, Opportunities, Threats) Analysis, Creating the Strategy Narrative
Thursday, November 11, 2021
5:00 – 6:00 p.m. (EST)
Session 7: Strategy Implementation
Thursday, November 18, 2021
5:00 – 6:00 p.m. (EST)
Bonus Q&A Session: 6:00 – 6:30 p.m. EST
Questions? Please contact Rob at DrRobSheehan@gmail.com. 
Not interested just yet? Click here for updates on future course dates.
Register
Testimonials
"If you believe you know all there is to comprehend about strategic planning or if you think you must hire a consultant for achieving a strong plan, you really don't want to miss Rob Sheehan's course. This is no trudge through academia. You'll be amazed week after week by the practical, yet mind-blowing, applications to a DIY strategic plan process that sets a course of action you'll be eager to take!"
"This course came at a time when my organization was redesigning our future. The strategies, approaches, and thought concepts that I learned from Dr. Sheehan has significantly impacted our strategic plan process. We are closely examining our mission gaps, SMART Goals, and stretch goals. If your organization is looking to truly deliver on its mission and be intentional in their efforts, I strongly encourage you to register."